Explore Flåm effortlessly on a electric scooter!
Fecha: Martes 22 sep. 2020 - sábado 10 oct. 2020
Mostrar mapa
The Ninebot ES2 L KickScoter will transport you quickly around Flåm. We strongly recommend a trip to the to the Old Church in Flåm (located 3.5km from Flåm station) and on the designated biking and walking road following the fjord towards Aurland. (not possible to ride all the way to Aurland)
The scooter can go up to 13 mph (20km/h) and travel up to 28 miles* (45 km*).

The scooter is fitted with rear shock absorption that ensures a comfortable ride and the front and rear lights allow riders to be seen in low light. The anti-lock mechanical and electrical brakes ensure a safe braking distance.

Maximum weight of rider is 100kg. Please show great caution when biking in Flåm. By the Station / dock area, we kindly ask you to roll your bike / kick-bike.

Helmet is not mandatory, but STRONGLY reccommended. If you do not have your own, you can borrow one when you pick up the scooter.

*Depending on weight of rider, terrain and riding speed
Mostrar más
Alojamiento en los alrededores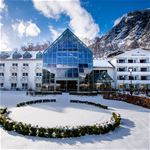 Hotel
Distancia: 73 metros
En el centro de Flåm, en la parte más interna del fiordo Sognefjord se encuentra la hermosa Fretheim Hotel. Siempre hay fantasmas en hoteles históricos, por lo Fretheim Hotel tiene más que ofrecer que sólo alojamiento
Pensión
Distancia: 205 metros
A lovely accomodation by the fjord with beautiful view.
Alojamiento
Distancia: 6,5 km
Hotel Aurlandsfjord is a relaxed fjord hotel in Aurland, the perfect hub experiencing the Flåm region attractions. Only 6 minutes walk to the pier embarking Fjord Cruise Nærøyfjord and bus stop connecting Stegastein Viewpoint and Flåm Railway