Bikerental Kårdal - Flåm
Fecha: Viernes 1 may. 2020 - jueves 15 oct. 2020
Mostrar mapa
Complete your bucket-list experience with a bike ride down the Flåm Valley.
Return your bike at next to The Flåm Railway Museum.
Mostrar más
Acerca de esta actividad
Phone number (booking)

Información de precios
Alojamiento en los alrededores
Pensión
Distancia: 12,2 km
A lovely accomodation by the fjord with beautiful view.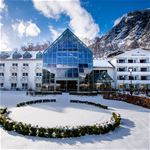 Hotel
Distancia: 12,3 km
En el centro de Flåm, en la parte más interna del fiordo Sognefjord se encuentra la hermosa Fretheim Hotel. Siempre hay fantasmas en hoteles históricos, por lo Fretheim Hotel tiene más que ofrecer que sólo alojamiento
Alojamiento
Distancia: 1,5 km
Welcome to Vatnahalsen – an all year destination in the heartland of the Norwegian natural and cultural heritage. Ever since 1896, Vatnahalsen has been a popular destination for Norwegians and Europeans in search of a mountain sanctuary. It's a great base, whether you want to enjoy traditional food and scenic views, go skiing, or explore Nærøyfjorden, one of UNESCO´s World Heritage sites. All transport to and from Vatnahalsen Hotel is by train.