The Flåm Railway with pancakes and coffee/tea
Show map
The package includes svele and coffee or tea at Cafe Rallaren in Myrdal. Svele is a traditional norwegian kind of thick pancakes usually served with sour cream and jam. Cafe Rallaren is located in the station building in Myrdal.
Show more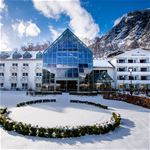 Hotel
Distance: 125 meters
In the center of Flåm, in the innermost part of the Sognefjord you'll find the beautiful Fretheim Hotel. There are always ghosts in historical hotels, so Fretheim Hotel has more to offer than just accomodation
Pension
Distance: 214 meters
A lovely pention by the fjord with beautiful view.
Accomodation
Distance: 6.4 km
Hotel Aurlandsfjord is a relaxed fjord hotel in Aurland, the perfect hub experiencing the Flåm region attractions. Only 6 minutes walk to the pier embarking Fjord Cruise Nærøyfjord and bus stop connecting Stegastein Viewpoint and Flåm Railway