Fjord Cruise Sognefjord
Date: Tuesday 22 sep 2020 - Wednesday 30 Sep 2020
Show map
This ferry takes you through one of Unesco's World Heitage sites; The Nærøyfjord. The carferry sails between Gudvangen and Kaupanger, and connects the south side of the Sognefjord to the north side.
In main season we have 10 daily departures, and the cruise is 2 hours and 30 minutes. A fantastic opportunity to relax and enjoy the dramatic landscape this area has to offer. On board the ferry are saloons, outdoor seating and a cafè.

NB! When booking a vehicle, the driver is included in the price!
NB! Select "1 traveller" when ordering the Carpackage! This product includes: car, driver and up to 4 passengers.
Show more
Book now - choose start date and product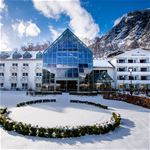 Hotel
Distance: 14.8 km
In the center of Flåm, in the innermost part of the Sognefjord you'll find the beautiful Fretheim Hotel. There are always ghosts in historical hotels, so Fretheim Hotel has more to offer than just accomodation
Pension
Distance: 15 km
A lovely pention by the fjord with beautiful view.
Accomodation
Distance: 19 km
Hotel Aurlandsfjord is a relaxed fjord hotel in Aurland, the perfect hub experiencing the Flåm region attractions. Only 6 minutes walk to the pier embarking Fjord Cruise Nærøyfjord and bus stop connecting Stegastein Viewpoint and Flåm Railway