Explore Flåm effortlessly on a electric scooter!
Datum: Freitag 1 mai 2020 - Dienstag 6 Okt 2020
Karte anzeigen
The Ninebot ES2 L KickScoter will transport you quickly around Flåm. We strongly recommend a trip to the to the Old Church in Flåm (located 3.5km from Flåm station) and on the designated biking and walking road following the fjord towards Aurland. (not possible to ride all the way to Aurland)
The scooter can go up to 13 mph (20km/h) and travel up to 28 miles* (45 km*).

The scooter is fitted with rear shock absorption that ensures a comfortable ride and the front and rear lights allow riders to be seen in low light. The anti-lock mechanical and electrical brakes ensure a safe braking distance.

Maximum weight of rider is 100kg. Please show great caution when biking in Flåm. By the Station / dock area, we kindly ask you to roll your bike / kick-bike.

Helmet is not mandatory, but STRONGLY reccommended. If you do not have your own, you can borrow one when you pick up the scooter.

*Depending on weight of rider, terrain and riding speed
Mehr anzeigen
Über diese Aktivität
Telefonnummer Reservierung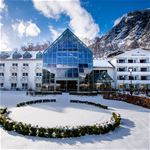 Hotel
Entfernung: 72 Meter
In the center of Flåm, in the innermost part of the Sognefjord you'll find the beautiful Fretheim Hotel. There are always ghosts in historical hotels, so Fretheim Hotel has more to offer than just accomodation
Übernachten
Entfernung: 13,3 km
Welcome to Vatnahalsen – an all year destination in the heartland of the Norwegian natural and cultural heritage. Ever since 1896, Vatnahalsen has been a popular destination for Norwegians and Europeans in search of a mountain sanctuary. It's a great base, whether you want to enjoy traditional food and scenic views, go skiing, or explore Nærøyfjorden, one of UNESCO´s World Heritage sites. All transport to and from Vatnahalsen Hotel is by train.
Pension
Entfernung: 205 Meter
A lovely accomodation by the fjord with beautiful view.