Gents bike
Datum: Freitag 1 mai 2020 - Dienstag 6 Okt 2020
Karte anzeigen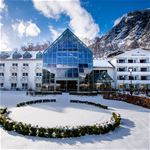 Hotel
Entfernung: 74 Meter
In the center of Flåm, in the innermost part of the Sognefjord you'll find the beautiful Fretheim Hotel. There are always ghosts in historical hotels, so Fretheim Hotel has more to offer than just accomodation
Übernachten
Entfernung: 13,3 km
Welcome to Vatnahalsen – an all year destination in the heartland of the Norwegian natural and cultural heritage. Ever since 1896, Vatnahalsen has been a popular destination for Norwegians and Europeans in search of a mountain sanctuary. It's a great base, whether you want to enjoy traditional food and scenic views, go skiing, or explore Nærøyfjorden, one of UNESCO´s World Heritage sites. All transport to and from Vatnahalsen Hotel is by train.
Pension
Entfernung: 196 Meter
A lovely accomodation by the fjord with beautiful view.